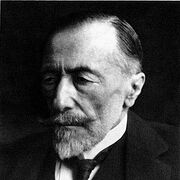 Joseph Conrad
(1857–1924)
Wissenswertes
Rechtmäßiger Name

Andere Namen

Geburtstag

Todestag

Begräbnisort

Geschlecht

Nationalität

Land (für Karte)

Geburtsort

Sterbeort

Todesursache

Wohnorte

Bishopsbourne, Kent, England, UK
Lwiw, Polen
Vologda, Russland
Marseille, Frankreich
Warschau, Polen
Chernihiv, Ukraine (

Zeige alle

7)
Krakau, Polen

Ausbildung

Berufe

Beziehungen

Kurzbiographie

Joseph Conrad was a Polish-British writer regarded as one of the greatest novelists to write in the English language. Though he did not speak English fluently until his twenties, he was a master prose stylist who brought a non-English sensibility into English literature. Conrad wrote stories and novels, many with a nautical setting, that depict trials of the human spirit in the midst of what he saw as an impassive, inscrutable universe.

Conrad is considered an early modernist, though his works contain elements of 19th-century realism. His narrative style and anti-heroic characters have influenced numerous authors, and many films have been adapted from, or inspired by, his works. Numerous writers and critics have commented that Conrad's fictional works, written largely in the first two decades of the 20th century, seem to have anticipated later world events.

Writing near the peak of the British Empire, Conrad drew, among other things, on his native Poland's national experiences and on his own experiences in the French and British merchant navies, to create short stories and novels that reflect aspects of a European-dominated world—including imperialism and colonialism—and that profoundly explore the human psyche.
Statistikseite
Werke

613

Auch von

115

Mitglieder

79,052

Beliebtheit

#155

Bewertung

3.7
Rezensionen

1,093

ISBNs

5,427

Sprachen

38

Favoriten

294

Über uns

1

Anker

1,824