Patrick Ness: LibraryThing Autoren-Interview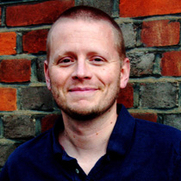 Patrick Ness is the author of several books for young adults, including The Knife of Never Letting Go and the Carnegie Medal-winning Monsters of Men and A Monster Calls. His new book, More Than This, was published by Candlewick in September.
I don't want to ask for a nutshell version of More Than This, since so much depends on the mysteries that the reader has the chance to unpack, but will you give us a sense of how the book begins, at least?
Well, the first line is "Here is the boy, drowning" and he does, unambiguously, die. So where does he wake up on the next page then? Don't really want to say any more than that, really!
Was there a specific idea or incident that inspired the story?
I always wanted to write a book where someone wakes up and the world is empty. So the next question is why? And that opened up a whole realm of possibilities and other questions, which is what I find exciting. I also wanted to write a book about yearning, about yearning for more than just your own life, because I think that's such a painful and poignant universal teenage experience. Then I just sort of went from there to see where the story would take me.
What's your favorite line (or scene) from the book?
I don't want people to turn to it first! But I'm really proud of the last line. To me, the whole book rests on it and it's got everything I want the book to be about in it. But read the first 480 pages first, please.
What do you think it is about dystopian writing that works so well for YA/teen audiences?
I've always thought it was because dystopias are about a world where society has suddenly collapsed, where the rules are arbitrary and unknowable, where people are divided into groups, and your friends are both beloved and duplicitous. In short, it's high school. I don't think teenagers look as dystopia as fiction; they see it as a pretty accurate description of what their current world feels like.
When and where do you do most of your writing? Are there any particular writing habits or practices you've found useful?
I work at home and in the London Library. And I do have a few habits—1000 words a day, working to goal rather than time, etc.—but it's a really important thing that no one can tell you how to write; they can only tell you how they write and that's an important difference. The things I do may be of no use to you at all, but that's absolutely fine. As long as you get the writing in, you're doing it right.
What parts of the writing process do you most enjoy? Most dislike?
First drafts are hard hard hard, as they should be, and it's not that I dislike them, but boy, they're really the thing that has to be got through. The second draft, though, is my favorite part, as that's where it starts to look like a book.
Who are some your favorite authors (or books) of all time? Which do you find yourself returning to often?
I like people who seem like they have to write or they'd spontaneously combust. People like Peter Carey or Nicola Barker or Michael Chabon. I find myself returning to Peter Carey a lot, actually. He's a big hero of mine. Able to be both searingly intelligent and incredibly entertaining.
What's on your bookshelves? What sorts of books would we find in your own collection?
Mostly novels, with some non-fiction, but after that, a really wide variety. I think it's so important not to be a book snob, to embrace all genres and writers, as long as they're showing you (me) something fresh and different. I've got all of Margaret Atwood, for example, but I've also got all of Anne Tyler and Sarah Waters and Zadie Smith...
What have you read and enjoyed recently?
I read Dan Rhodes' wonder This Is Life on holiday, a book of pure happiness. I also thought Zadie Smith's NW was superb and really enjoyed David Levithan's Every Day.
Can you tell us anything about the projects you're working on now?
Nope. I tend to keep stuff secret; that gives it room to grow and fail and make mistakes and grow again. It's safest. But I'm working, I'm working.
—interview by Jeremy Dibbell