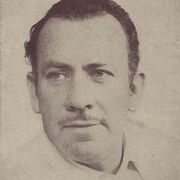 John Steinbeck
(1902–1968)
Wissenswertes
Rechtmäßiger Name

Geburtstag

Todestag

Begräbnisort

Geschlecht

Nationalität

Geburtsort

Sterbeort

Todesursache

Ausbildung

Berufe

Beziehungen

Organisationen

Preise und Auszeichnungen

Nobelpreis (Literatur, 1962)
Presidential Medal of Freedom (1964)
Academy Award nomination for Best Story (1944)
California Hall of Fame (2007)

Kurzbiographie

John Ernst Steinbeck Jr. (February 27, 1902 – December 20, 1968) was an American author. He won the 1962 Nobel Prize in Literature "for his realistic and imaginative writings, combining as they do sympathetic humour and keen social perception." He has been called "a giant of American letters," and many of his works are considered classics of Western literature.

During his writing career, he authored 33 books, including 16 novels, six non-fiction books, and two collections of short stories. He is widely known for the comic novels Tortilla Flat (1935) and Cannery Row (1945), the multi-generation epic East of Eden (1952), and the novellas The Red Pony (1933) and Of Mice and Men (1937). The Pulitzer Prize-winning The Grapes of Wrath (1939) is considered Steinbeck's masterpiece and part of the American literary canon. In the first 75 years after it was published, it sold 14 million copies.

Most of Steinbeck's work is set in central California, particularly in the Salinas Valley and the California Coast Ranges region. His works frequently explored the themes of fate and injustice, especially as applied to downtrodden or everyman protagonists.

Hinweis zur Identitätsklärung

For the author's son (1946-1991), see John Steinbeck IV.
Statistikseite
Werke

401

Auch von

169

Mitglieder

176,046

Beliebtheit

#29

Bewertung

4.0
Rezensionen

2,983

ISBNs

2,387

Sprachen

38

Favoriten

867