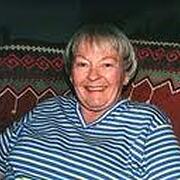 Sheri S. Tepper
(1929–2016)
Wissenswertes
Rechtmäßiger Name

Andere Namen

Geburtstag

Todestag

Geschlecht

Nationalität

Geburtsort

Sterbeort

Wohnorte

Berufe

Preise und Auszeichnungen

John W. Campbell Award Nomination (1984)
Best Fantasy Novel - Locus Magazine (1991)
Hugo Award Nomination (1990)
NYT Notable Book citation (1990)
Edgar Award Nomination (1991)
World Fantasy Award (Lifetime Achievement, 2015)

Agent

Kurzbiographie

Sheri S. Tepper, née Shirley Stewart Douglas, also wrote under several pseudonyms, including A. J. Orde, E. E. Horlak, and B. J. Oliphant. Her early work was published under the name Sheri S. Eberhart. She was born near Littleton, in rural Colorado, and loved reading science fiction books as a child. For most of her career (1962-1986), she worked for and guided the growth of Planned Parenthood of the Rocky Mountains, where she eventually was named Executive Director. She was married to Eugene X. Tepper and had two children. After her retirement, she and her husband moved to a ranch near Castle Rock, Colorado, and later to Santa Fe, New Mexico, where she launched her second career as a writer. Over the next three decades, she became a prolific author of acclaimed science fiction, fantasy, horror, and mystery novels; she was particularly known as a feminist science fiction writer, often with an eco-feminist slant.
Statistikseite
Werke

73

Auch von

6

Mitglieder

23,670

Beliebtheit

#884

Bewertung

3.8
Rezensionen

402

ISBNs

279

Sprachen

11

Favoriten

136