March 2011
Lieferung
Ablauf der Leseexemplar-Serie

:

März 28 um 06:00 pm EDT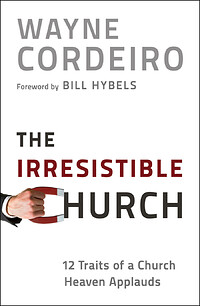 Schnellansicht
Be a Church That Makes Heaven Applaud After more than 25 years of ministry in Hawaii, Wayne Cordeiro knows what kind of church God blesses. In fact, New Hope, the Honolulu church he founded, is one of the nation's fastest growing churches. Whether you're a pastor, layleader, or person in the pew, this book will show you how your church can become one that God uses in incredible ways. Wayne Cordeiro lays out twelve practical steps to being a church that heaven applauds--including ways to encourage love for the community, develop a culture of serving, turn visitors into regular attenders, and much more. Yet the focus, he says, is not on programs--it's on being a church that God can't help but bless. When a church hungers for the presence of God, promotes healthy relationships, and connects everything to a soul, it becomes a vibrant church that's irresistible to God--and to people. These are characteristics that any church can develop--no matter the size of the congregation or the budget--to become irresistible. The included study guide will help you apply these principles to your church.
Medium

Papier

Genres

Religion & Spirituality, Nonfiction

Angeboten von

Bethany House (

Verleger

)

Links
September 2010
Lieferung
Ablauf der Leseexemplar-Serie

:

September 26 um 06:00 pm EDT
Schnellansicht
(BISAC: RELIGION / Christian Life / Spiritual Growth) Full-throttle faith resides in fully yielded hearts. In The Power of a Whisper: Hearing God, Having the Guts to Respond, Bill Hybels reveals the attitudes and actions that help us hear directly from heaven as we navigate the most significant challenges on earth. In The Power of a Whisper, vision is cast for what life can look like when God's followers choose to hear from heaven as they navigate life on earth. Whispers that arbitrate key decisions, nudges that rescue from dark nights of the soul, promptings that spur on growth, urgings that come by way of another person, inspiration that opens once-glazed-over eyes to the terrible plight people face in this world—through firsthand accounts spanning fifty-seven years of life, more than thirty of which have been spent in the trenches of ministry, Hybels promotes passion in Christ-followers' hearts for being wide open to hearing from God, and for getting gutsier about doing exactly what God says to do.
Medium

Papier

Genres

Religion & Spirituality, General Nonfiction, Nonfiction

Angeboten von

Zondervan (

Verleger

)

Links