The Witches of LibraryThing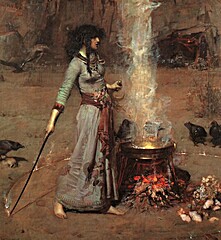 Diese Gruppe ist offiziell eingeschlafen. Sowas passiert.
Wie du die Gruppe wiederbeleben oder eine neue Gruppe zum selben Thema erstellen kannst, erfährst du hier.
Wiccans or Non-Wiccans. Covened or Solitaries. Christo-Pagans, Folk Catholics, Spiritual Workers. Hoodoos, Rootworkers, Conjure Men and Women. Feri Witches and Folk Magicians. If you practice Witchcraft and/or consider yourself a Witch, this group is for you! Let's talk about our favorite books and support one another on the journey.
Thema

Thema

Beiträge

Letzter Beitrag

Welcome and introductions

53 ungelesen

/ 53

PhaedraB

,

Juni

2015
Recommend any good books

8 ungelesen

/ 8

Brian_Whiteman

,

Februar

2014
Free today thru 12/31 - Best Fantasy Finalist New Mexico Arizona Book Awards

2 ungelesen

/ 2

Brian_Whiteman

,

Juni

2013
Pagan Reading Category Challenge for 2013

2 ungelesen

/ 2

dizzylizzy

,

April

2013
Casting A Spell On Someone. #1 Witch of the week..

2 ungelesen

/ 2

Kyle_Cahill

,

Oktober

2012
The Phoenix Moon Community Book Store

3 ungelesen

/ 3

Bidwell-Glaze

,

November

2011
Welcome to Siobhon's Tavern, a place for n00bs, and oldtimers get to gather. What's your poison?

19 ungelesen

/ 19

SidheRocks

,

Juli

2011
spirit of real GODS & GODDESSES

5 ungelesen

/ 5

knosha

,

Mai

2011
Tarot Card Reading# 1

1 ungelesen

/ 1

knosha

,

Mai

2011
Hello!

13 ungelesen

/ 13

knosha

,

Mai

2011
What are you reading now?

27 ungelesen

/ 27

ddfbryant

,

April

2011
Trancework?

3 ungelesen

/ 3

MarionII

,

April

2010
Anyone else have a "conversion attempt" tag?

14 ungelesen

/ 14

MarionII

,

April

2010
Old v. New

5 ungelesen

/ 5

Dead_Dreamer

,

April

2010
Footnotes, endnotes, bibliography

3 ungelesen

/ 3

Sile

,

April

2010
The Witches Of Eastwick TV Series

4 ungelesen

/ 4

beatles1964

,

September

2009
Reviewers Needed!

4 ungelesen

/ 4

Sile

,

März

2009
Pagan Authors of Fiction

8 ungelesen

/ 8

EmScape

,

Juni

2008
What about this book?

1 ungelesen

/ 1

lindall

,

März

2008
Recommend

9 ungelesen

/ 9

lindall

,

März

2008
So.....

11 ungelesen

/ 11

Magelet33

,

Januar

2008
Need some info.

5 ungelesen

/ 5

Ethereal_Raven

,

Januar

2008
New publishing house which may interest some here...

4 ungelesen

/ 4

lupagreenwolf

,

November

2007
Interesting

1 ungelesen

/ 1

Blood_Dust

,

Mai

2007
This is a feature balloon