Club Read 2012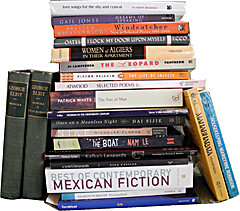 Welcome to Club Read 2012!

As for the past several years, we are a group of serious readers who are varied and thoughtful in our reading and would like to log/journal publicly our 2012 reading. The group is also for those of us who like to follow what other LTers are reading. Pronounced like "Club Red". While all are welcome, please take a look around to see if we're the kind of readers you'd like to hang with. Most of us have been together on Club Read 2009, Club Read 2010, and Club Read 2011.

What to do: Create your own thread, naming it whatever you like but please use your LT user name in the title. This is so others can easily find you, if they would like. Feel free to include any and all reading you do, if you like (i.e. magazines, individual stories, work-related or school-related texts), it's your journal. Also, a few lines of commentary about each entry, even if you are linking to your review elsewhere, would encourage interest and thus, conversation - but, again, it's your journal.

This year, once again, volunteers have offered to set up and manage some of our regular threads, including monthly What Are You Reading? threads (Dan Chaikin/dchaikin), bimonthly Interesting Articles threads (stretch),quarterly and year-end Best Reads threads (Barry/baswood), and occasional (bimonthly?) challenges (AnnieMod). THANK YOU ALL!

This group is for its members. Please feel free to start threads that you think would be of interest in addition to the standard ones.

And have fun reading!
Thema

Thema

Beiträge

Letzter Beitrag

Just Joined

10 ungelesen

/ 10

edwinbcn

,

Juli

21
edwinbcn's Reading Journal 2012, Part 2

180 ungelesen

/ 180

edwinbcn

,

April

13
The Master and Margarita Group Read: Part 1

83 ungelesen

/ 83

EBT1002

,

Juli

2017
labfs39: a year in the life of Lisa's reading (2012) - pt.3

271 ungelesen

/ 271

lasingh

,

Juni

2016
labfs39: a year in the life of Lisa's reading (2012) - pt.2

253 ungelesen

/ 253

SqueakyChu

,

Juli

2013
Robert Durick's reading in 2012, fourth quarter

158 ungelesen

/ 158

auntbuntisadunce

,

Februar

2013
Beatles1964's Reading 2012

11 ungelesen

/ 11

beatles1964

,

Januar

2013
Caro's Catch of Compelling Codices

52 ungelesen

/ 52

C4RO

,

Januar

2013
Fuzzy's Reading in 2012

63 ungelesen

/ 63

fuzzy_patters

,

Januar

2013
avaland's 2012 thread II

154 ungelesen

/ 154

avaland

,

Januar

2013
TonyH reads in 2012

100 ungelesen

/ 100

tonikat

,

Januar

2013
Rebeki's 2012 reading

163 ungelesen

/ 163

Rebeki

,

Januar

2013
timjones in 2012

90 ungelesen

/ 90

timjones

,

Januar

2013
Baswood's books, music films etc part 4

315 ungelesen

/ 315

baswood

,

Januar

2013
DieFledermaus in 2012 - Part III

124 ungelesen

/ 124

baswood

,

Januar

2013
Nickelini's 2012 Reading, part 3

171 ungelesen

/ 171

Nickelini

,

Januar

2013
lilbrattyteen's reading journal, part two.

112 ungelesen

/ 112

JDHomrighausen

,

Januar

2013
labfs39: a year in the life of Lisa's reading (2012) - pt.4

99 ungelesen

/ 99

labfs39

,

Januar

2013
Rebeccanyc Reads in 2012, Part 4

249 ungelesen

/ 249

rebeccanyc

,

Januar

2013
janepriceestrada's reading 2012

170 ungelesen

/ 170

janemarieprice

,

Januar

2013
**2012 A reading year(Best reads and stats)**

31 ungelesen

/ 31

janemarieprice

,

Januar

2013
kidzdoc's Third Assault on Mount TBR in 2012

245 ungelesen

/ 245

SassyLassy

,

Januar

2013
SassyLassy still meandering through 2012

232 ungelesen

/ 232

SassyLassy

,

Januar

2013
steven03tx's 2012 reading log, part 4

182 ungelesen

/ 182

ljbwell

,

Januar

2013
Linda29007's reading for 2012 - Part 3

29 ungelesen

/ 29

Linda92007

,

Januar

2013
deebee logs her reading in 2012

203 ungelesen

/ 203

deebee1

,

Januar

2013
dchaikin continues in 2012

309 ungelesen

/ 309

dchaikin

,

Januar

2013
avidmom reads avidly in 2012

274 ungelesen

/ 274

avidmom

,

Januar

2013
bragan's eclectic mishmash, part 4

155 ungelesen

/ 155

bragan

,

Januar

2013
detailmuse in 2012, part 2

147 ungelesen

/ 147

DetailMuse

,

Januar

2013
ljbwell delves into 2012

119 ungelesen

/ 119

ljbwell

,

Januar

2013
LesMiserables' 2012 Reading List

41 ungelesen

/ 41

LesMiserables

,

Januar

2013
janeajones wants to read more jewels in 2012

204 ungelesen

/ 204

dchaikin

,

Dezember

2012
wandering_ tiger, dwindling TBR? - second thread

146 ungelesen

/ 146

wandering_star

,

Dezember

2012
RidgewayGirl's 2012 Reading

270 ungelesen

/ 270

RidgewayGirl

,

Dezember

2012
torontoc's Club Read 2012 reading

288 ungelesen

/ 288

baswood

,

Dezember

2012
Cariola's 2012 Books

73 ungelesen

/ 73

rebeccanyc

,

Dezember

2012
**What Are You Reading Now? -- December 2012

111 ungelesen

/ 111

lilisin

,

Dezember

2012
japaul's 2012 reading log, part 2

205 ungelesen

/ 205

karspeak

,

Dezember

2012
dmsteyn 2012 - only reading boy on my street? part 2

185 ungelesen

/ 185

DieFledermaus

,

Dezember

2012
My Favourite Threads

22 ungelesen

/ 22

stretch

,

Dezember

2012
**Interesing Articles - November thru December

15 ungelesen

/ 15

rebeccanyc

,

Dezember

2012
Reading Resolution for 2013

2 ungelesen

/ 2

fuzzy_patters

,

Dezember

2012
Lilisin in 2012

84 ungelesen

/ 84

lilisin

,

Dezember

2012
Milda-TX: Fresh off the shelf in 2012

32 ungelesen

/ 32

Milda-TX

,

Dezember

2012
Alphaorder's (Nancy) Reading in 2012

97 ungelesen

/ 97

rebeccanyc

,

Dezember

2012
Petermc - Logbook 2012

135 ungelesen

/ 135

tymfos

,

Dezember

2012
** QUESTIONS for the Avid Reader -- for the Rest of 2012

50 ungelesen

/ 50

avaland

,

Dezember

2012
Rise 2012

134 ungelesen

/ 134

Rise

,

Dezember

2012
Stretch's reading for 2012

213 ungelesen

/ 213

dchaikin

,

Dezember

2012
zenomax: On the doubling of the moon

194 ungelesen

/ 194

tonikat

,

Dezember

2012
2012 CLUB READ MESSAGE BOARD

98 ungelesen

/ 98

rebeccanyc

,

Dezember

2012
yolana's 2012 resolution

19 ungelesen

/ 19

dchaikin

,

Dezember

2012
luv2read's 2012 Reading Log

15 ungelesen

/ 15

luv2read97

,

Dezember

2012
The Holiday Challenge 2012

11 ungelesen

/ 11

AnnieMod

,

Dezember

2012
***Let's Talk About Club Read 2013!

13 ungelesen

/ 13

rebeccanyc

,

Dezember

2012
**What Are You Reading Now? -- November 2012

60 ungelesen

/ 60

avidmom

,

Dezember

2012
Linda29007's reading for 2012 - Part 2

226 ungelesen

/ 226

Linda92007

,

November

2012
Annie's reading in 2012

83 ungelesen

/ 83

AnnieMod

,

November

2012
Plyte's Books in 2012

25 ungelesen

/ 25

anthony_agbay

,

November

2012
** QUESTIONS For the Avid Reader, September - October 2012

145 ungelesen

/ 145

deebee1

,

November

2012
**Best of 2012 lists**

7 ungelesen

/ 7

dchaikin

,

November

2012
rachbxl in 2012

177 ungelesen

/ 177

avaland

,

November

2012
AuntMarge64's Club Read for 2012

137 ungelesen

/ 137

auntmarge64

,

November

2012
**What Are You Reading Now? -- October 2012

75 ungelesen

/ 75

lilisin

,

Oktober

2012
***Interesting Articles: September-October.

16 ungelesen

/ 16

rebeccanyc

,

Oktober

2012
Arrwa reads for fun

25 ungelesen

/ 25

arrwa

,

Oktober

2012
Jargoneer Occupies LT

188 ungelesen

/ 188

baswood

,

Oktober

2012
The Vivisector - Patrick White Group Read

19 ungelesen

/ 19

baswood

,

Oktober

2012
Robert Durick's reading in 2012, third quarter

198 ungelesen

/ 198

RidgewayGirl

,

Oktober

2012
akeela reads in 2012

70 ungelesen

/ 70

dchaikin

,

Oktober

2012
**Best (and worst) reads - Third Quarter (July- Sept) **

20 ungelesen

/ 20

avaland

,

Oktober

2012
dukedom_enough and his 2012 reading

58 ungelesen

/ 58

avaland

,

Oktober

2012
lilbrattyteen's reading journal

215 ungelesen

/ 215

JDHomrighausen

,

Oktober

2012
Poquette's Bibliomonde II

161 ungelesen

/ 161

janeajones

,

Oktober

2012
1Cookie1 list for 2012

10 ungelesen

/ 10

baswood

,

Oktober

2012
Elainedav Club read for 2012

3 ungelesen

/ 3

yolana

,

Oktober

2012
DieFledermaus in 2012 - Part II

234 ungelesen

/ 234

DieFledermaus

,

Oktober

2012
steven03tx's 2012 reading log, part 3

236 ungelesen

/ 236

StevenTX

,

Oktober

2012
Cait's 2012 Reading

159 ungelesen

/ 159

bonniebooks

,

Oktober

2012
bragan's eclectic mishmash, part 3

175 ungelesen

/ 175

bragan

,

Oktober

2012
**What Are You Reading Now? -- September 2012

101 ungelesen

/ 101

dchaikin

,

Oktober

2012
Rebeccanyc Reads in 2012, Part 3

217 ungelesen

/ 217

rebeccanyc

,

September

2012
pamelad's reading log

38 ungelesen

/ 38

rebeccanyc

,

September

2012
***International Book Week

32 ungelesen

/ 32

ljbwell

,

September

2012
charbutton's 2012 reading

44 ungelesen

/ 44

Cait86

,

September

2012
**Interesting Articles - July/August

33 ungelesen

/ 33

rebeccanyc

,

September

2012
Nickelini's 2012 Reading, part 2

210 ungelesen

/ 210

Nickelini

,

September

2012
**QUESTIONS for the Avid Reader IV (June, July, August)

119 ungelesen

/ 119

Nickelini

,

September

2012
bonniebooks beginning again, 2012

69 ungelesen

/ 69

labfs39

,

September

2012
**Interesting Articles for September and October

1 ungelesen

/ 1

stretch

,

September

2012
Cariola's 2012 Books

236 ungelesen

/ 236

Cariola

,

September

2012
Arubabookwoman Tries Again

47 ungelesen

/ 47

bonniebooks

,

September

2012
detailmuse in 2012

218 ungelesen

/ 218

DetailMuse

,

August

2012
***What Are Your Reading in AUGUST 2012?

103 ungelesen

/ 103

rebeccanyc

,

August

2012
kidzdoc's Second Assault on Mount TBR in 2012

252 ungelesen

/ 252

kidzdoc

,

August

2012
Baswood's books, music films etc part 3

220 ungelesen

/ 220

dchaikin

,

August

2012
Hil

2 ungelesen

/ 2

JDHomrighausen

,

August

2012
**The Poetry Thread **

76 ungelesen

/ 76

moemoa

,

August

2012
edwinbcn's Reading Journal 2012, Part 1

231 ungelesen

/ 231

pamelad

,

August

2012
This is a feature balloon