Thing(amabrarian)s That Go Bump in the Night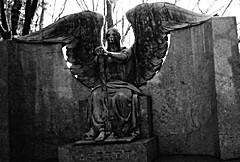 Diese Gruppe ist offiziell eingeschlafen. Sowas passiert.
Wie du die Gruppe wiederbeleben oder eine neue Gruppe zum selben Thema erstellen kannst, erfährst du hier.
For devotees of the horror genre and all things from the dark side of literature. Vampires and werewolves and demons... Oh My!
Thema

Thema

Beiträge

Letzter Beitrag

(In Your Opinion) who is the best Horror author?

36 ungelesen

/ 36

anjenue

,

Juni

2020
Will somebody fix the group name?

4 ungelesen

/ 4

AMP1972

,

Mai

2020
Lovecraft - Where to start?

8 ungelesen

/ 8

AMP1972

,

Mai

2020
Current authors like Stephen King

7 ungelesen

/ 7

rbfoster2

,

April

2020
Current contemporary horror, what am I missing?

9 ungelesen

/ 9

Charrlygirl

,

März

2020
Does anyone recognize this book?

3 ungelesen

/ 3

Taphophile13

,

Mai

2019
Find that Book: Fiction Vamp book and bar

2 ungelesen

/ 2

Taphophile13

,

Juni

2018
"What Scary Book Are You Reading Now" Walks Again

109 ungelesen

/ 109

KelGraham

,

November

2017
Intro

1 ungelesen

/ 1

RobJordan

,

November

2016
THE KING IN YELLOW Discussion

1 ungelesen

/ 1

artturnerjr

,

Juni

2016
Antarctic horror?

51 ungelesen

/ 51

dupesparx

,

März

2016
Group read

3 ungelesen

/ 3

saraslibrary

,

November

2015
Short and Scary From the Sunshine State

1 ungelesen

/ 1

jackball74

,

Oktober

2015
What do you think about these novels?

10 ungelesen

/ 10

Mordecai42

,

Oktober

2015
'What scary movie have you watched recently?' - Midnight Double Feature! (not about double features)

54 ungelesen

/ 54

saraslibrary

,

September

2015
Charles L. Grant Question

1 ungelesen

/ 1

cosmicdolphin

,

September

2015
Mark McLaughlin, New to LibraryThing, Saying Hi to Group

3 ungelesen

/ 3

Mordecai42

,

August

2015
Horror video games

2 ungelesen

/ 2

SynonEmm

,

Juni

2015
UK James Herbert Award for Horror Writing shortlist announced

7 ungelesen

/ 7

wifilibrarian

,

April

2015
Just finished NOS4A2 by Joe Hill. Is Joe Hill a horror or thriller/suspense writer? I can't tell.

9 ungelesen

/ 9

mrgrooism

,

April

2015
'What scary movie have you watched recently?' - Midnight Double Feature! (not about double features)

355 ungelesen

/ 355

saraslibrary

,

April

2015
World War Z

7 ungelesen

/ 7

tjm568

,

Januar

2015
Who says a horror novel can't be scary AND funny? "Floyd & Mikki: Zombie Hunters" is hilarious!

1 ungelesen

/ 1

tatnerj

,

Januar

2015
Anyone find Stephen King actually scary?

103 ungelesen

/ 103

dhtabor

,

Januar

2015
Karl Edward wagner's Where the summer ends

2 ungelesen

/ 2

artturnerjr

,

Januar

2015
New Horror Book Reco for Vampire & Werewolf Fans

3 ungelesen

/ 3

.Monkey.

,

September

2014
Lovecraft's 'Supernatural Horror in Literature' Reading List

3 ungelesen

/ 3

Moomin_Mama

,

Juli

2014
Help from any readers of The Mist in the Mirror by Susan Hill

1 ungelesen

/ 1

Ann_Louise

,

Mai

2014
Darkfuse Book Club membership

6 ungelesen

/ 6

runner56

,

Januar

2014
Stephen King Goes to the Movies

11 ungelesen

/ 11

tjm568

,

Dezember

2013
Truly terrifying horror book series?

10 ungelesen

/ 10

tjm568

,

Dezember

2013
modern horror anthologies

6 ungelesen

/ 6

PJGraham

,

Dezember

2013
Horror book forums and book recommendations?

8 ungelesen

/ 8

runner56

,

November

2013
Which writers influenced Edgar Allen Poe?

13 ungelesen

/ 13

petine

,

November

2013
From out of the Stygian depths creeps/ What scary book are you reading part 2

228 ungelesen

/ 228

quartzite

,

November

2013
...

1 ungelesen

/ 1

ollonois

,

Oktober

2013
From a Buick 8 - State Police Car Question

1 ungelesen

/ 1

jackball74

,

September

2013
EXTREMELY scary book recommendations!

31 ungelesen

/ 31

unorna

,

August

2013
Summer-themed horror

12 ungelesen

/ 12

unorna

,

August

2013
Who is Tom Hood?

2 ungelesen

/ 2

bjbookman

,

Juni

2013
'What scary movie have you watched recently?' - When remakes attack (not about remakes)

302 ungelesen

/ 302

beeg

,

Juni

2013
John Saul

3 ungelesen

/ 3

saraslibrary

,

Juni

2013
Psychological Ghost Stories

37 ungelesen

/ 37

Hezba

,

März

2013
si's encounters with horror

8 ungelesen

/ 8

tjm568

,

Februar

2013
'What scary movie have you watched recently?' - Filmed in 3D! (Not about 3D movies)

324 ungelesen

/ 324

Helcura

,

Dezember

2012
The hills have eyes: the beginning, graphic novel

1 ungelesen

/ 1

ollonois

,

Dezember

2012
is horror a dead genre?

4 ungelesen

/ 4

cfink

,

Oktober

2012
Rick Hautala

1 ungelesen

/ 1

ollonois

,

Oktober

2012
Win a hardback copy of Carrie by Stephen King

1 ungelesen

/ 1

CynthiaE77

,

Oktober

2012
Have you ever experienced discrimination from others for liking/reading horror?

43 ungelesen

/ 43

ScribbleScribe

,

September

2012
Why do you read horror?

13 ungelesen

/ 13

CynthiaE77

,

September

2012
Introductions! Hi, Everyone!

1 ungelesen

/ 1

RussellKaine

,

September

2012
Laird Barron

3 ungelesen

/ 3

artturnerjr

,

August

2012
The Zombie Era is BACK

7 ungelesen

/ 7

tjm568

,

August

2012
quiet horror today

54 ungelesen

/ 54

Azeryk

,

Mai

2012
Frankenstein remix

2 ungelesen

/ 2

naimahaviland

,

Mai

2012
The Woman in Black - book vs film

11 ungelesen

/ 11

naimahaviland

,

Mai

2012
Atmosphere!

3 ungelesen

/ 3

Moomin_Mama

,

April

2012
I'm scared now!

8 ungelesen

/ 8

gryeates

,

Februar

2012
Number of books read in 2011

29 ungelesen

/ 29

StefanY

,

Februar

2012
Recommendation please...

9 ungelesen

/ 9

jmoralee

,

Februar

2012
Whatever happened to H. R Wakefield?

5 ungelesen

/ 5

gryeates

,

Februar

2012
American horror fiction boom 80's

13 ungelesen

/ 13

jseger9000

,

Januar

2012
What are Some Classics in the Horror genre?

26 ungelesen

/ 26

ScribbleScribe

,

Januar

2012
Richard Laymon

16 ungelesen

/ 16

coachtim30

,

Januar

2012
From out of the Stygian depths creeps "What scary book are you reading right now?"!

261 ungelesen

/ 261

Azeryk

,

Januar

2012
Opinions on Algernon Blackwood

9 ungelesen

/ 9

JamesEverington

,

Januar

2012
I just bought The Collected Writings of Ambrose Bierce

11 ungelesen

/ 11

artturnerjr

,

Januar

2012
Has Reading Regularly Helped You or Improved Your Life?

28 ungelesen

/ 28

saraslibrary

,

Dezember

2011
Jack Ketchum

10 ungelesen

/ 10

saraslibrary

,

Dezember

2011
Christmas Horror Books

15 ungelesen

/ 15

Leonard_Bain

,

Dezember

2011
Any true crime horror fans here? Recommendations?

18 ungelesen

/ 18

jseger9000

,

November

2011
horror comics today

1 ungelesen

/ 1

ollonois

,

Oktober

2011
old cursed painting of hanging; found rolled up; cut by mistake; it bleeds

7 ungelesen

/ 7

jseger9000

,

September

2011
Anyone remember They Thirst?

8 ungelesen

/ 8

tjm568

,

August

2011
Brian Keene has dissapeared from my Borders Horror Section...

9 ungelesen

/ 9

jseger9000

,

August

2011
Care to make a film with Clive Barker?

8 ungelesen

/ 8

CliffBurns

,

August

2011
While The Savage Sleeps by Andrew Kaufman

1 ungelesen

/ 1

tabitha6

,

August

2011
The Shadow of "What scary book are you reading right now?"

369 ungelesen

/ 369

sf_addict

,

August

2011
Why is Dean Koontz in the Horror Section...

33 ungelesen

/ 33

ScribbleScribe

,

August

2011
Which horror writer (in your opinion) is the best wordsmith?

30 ungelesen

/ 30

artturnerjr

,

Juli

2011
Does anyone think Peter Straub's writing a bit...well...abstract?

8 ungelesen

/ 8

Bookmarque

,

Juli

2011
Brian Lumley's Necroscope books?

18 ungelesen

/ 18

gryeates

,

Juli

2011
Get a box of 60+ Leisure Horror (or Western, Thriller or Romance) for $25.00

3 ungelesen

/ 3

jseger9000

,

Juli

2011
Found this Interesting...

11 ungelesen

/ 11

theapparatus

,

Juni

2011
western horror recommendation?

11 ungelesen

/ 11

rtttt01

,

Mai

2011
The Bride of "What scary book are you reading right now?"

337 ungelesen

/ 337

tabitha6

,

Mai

2011
What are you planning for Friday the 13th

21 ungelesen

/ 21

Thulean

,

Mai

2011
books similar to movies?

6 ungelesen

/ 6

BruceCoulson

,

Mai

2011
Netflix envy

11 ungelesen

/ 11

jseger9000

,

April

2011
Joining In With Review Request

4 ungelesen

/ 4

jseger9000

,

April

2011
Juliam Smith - I'm Reading A Book (Youtube Music Video)

1 ungelesen

/ 1

ScribbleScribe

,

April

2011
Suggestions for adult books for Goosebumps/Fear Street lovers?

15 ungelesen

/ 15

fairywings

,

April

2011
New Zombie Novel - DEAD BEAT by Remy Porter

3 ungelesen

/ 3

Ramsy

,

März

2011
European Re-issue: Rise and Walk by Gregory Solis

3 ungelesen

/ 3

Ramsy

,

März

2011
Horror writing contest for JournalStone

1 ungelesen

/ 1

Dranea

,

März

2011
The Son of 'What scary movie have you watched recently?'

318 ungelesen

/ 318

saraslibrary

,

März

2011
[quiz] Vocabulary Test

26 ungelesen

/ 26

Phlox72

,

Februar

2011
If you like creepy western ghost stories.....

1 ungelesen

/ 1

GirlMisanthrope

,

Februar

2011
Book Covers

13 ungelesen

/ 13

pgmcc

,

Februar

2011
This is a feature balloon