Historical Mysteries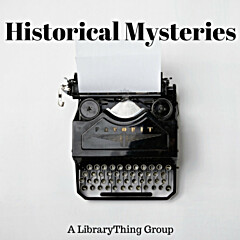 Diese Gruppe ist offiziell eingeschlafen. Sowas passiert.
Wie du die Gruppe wiederbeleben oder eine neue Gruppe zum selben Thema erstellen kannst, erfährst du hier.
If you prefer your mysteries to transport you to another time and culture, here's the group for you! We're here to discuss mysteries set in any period from the dawn of civilization to the end of WWII, so feel free to post your own threads on authors, books and series that you absolutely love or just can't stand!

Start a discussion today!
Thema

Thema

Beiträge

Letzter Beitrag

When are You 2020

8 ungelesen

/ 8

spaceofflowers

,

Oktober

2020
When Are You 2019

11 ungelesen

/ 11

Unreachableshelf

,

März

2020
When are you 2018

5 ungelesen

/ 5

benjclark

,

Oktober

2018
Anne Perry - anyone here a fan?

34 ungelesen

/ 34

ejj1955

,

November

2017
Christmas list 2017?

1 ungelesen

/ 1

benjclark

,

November

2017
Suggested Titles for Me to Read

2 ungelesen

/ 2

varielle

,

April

2017
When Are You March 2017

3 ungelesen

/ 3

Unreachableshelf

,

März

2017
#amreading January 2017

4 ungelesen

/ 4

Unreachableshelf

,

Januar

2017
Mysteries Set in the 18th Century

16 ungelesen

/ 16

PatriciaWynn

,

Dezember

2016
Wutcha Readin' January 2016

7 ungelesen

/ 7

Blu_Beri

,

Januar

2016
Barbara Hambly's Benjamin January/Janvier Mysteries

9 ungelesen

/ 9

Blu_Beri

,

Januar

2016
New Historical Mystery Authors

49 ungelesen

/ 49

benjclark

,

Dezember

2015
Traveling, via mysteries, in time: When are you now?, thread 2

40 ungelesen

/ 40

benjclark

,

Dezember

2015
Lindsay Davis

15 ungelesen

/ 15

Thrin

,

Dezember

2015
Mysteries set in Ancient Egypt

22 ungelesen

/ 22

reconditereader

,

Juli

2015
Your favourite medieval mystery series?

42 ungelesen

/ 42

jeannecarol

,

Juni

2015
Is there interest regarding books about the 10 lost tribes of Israel?

3 ungelesen

/ 3

pinkozcat

,

Februar

2015
Amelia Peabody series by Elizabeth Peters

11 ungelesen

/ 11

pinkozcat

,

Dezember

2014
Brother Cadfael Mysteries - Coming in Kindle format

1 ungelesen

/ 1

TnTexas

,

Juli

2014
Anyone going to Bouchercon in Albany, NY?

2 ungelesen

/ 2

mysterymax

,

August

2013
Good news for Charles Todd fans!

7 ungelesen

/ 7

cookieandpointer

,

Juli

2013
Group Read

13 ungelesen

/ 13

grundlecat

,

Juli

2013
No one is posting anymore.

12 ungelesen

/ 12

grundlecat

,

Juli

2013
Margaret Frazer

8 ungelesen

/ 8

pmarshall

,

Juni

2013
Thomas H. Cook's Period Mysteries

5 ungelesen

/ 5

jdgarner68

,

Juni

2013
Traveling, via mysteries, in time: When are you now?

254 ungelesen

/ 254

richardderus

,

November

2012
Rec for Books Like P.B. Ryan's Guilded Age Mysteries

2 ungelesen

/ 2

Dara_England

,

November

2012
Lord John Grey

1 ungelesen

/ 1

jdgarner68

,

Juli

2012
Anybody tried C J Sansom?

13 ungelesen

/ 13

marieke54

,

Juli

2012
Steven Saylor & Robert Harris question..

7 ungelesen

/ 7

jdgarner68

,

Juli

2012
Pioneering Women in Detective Fiction

6 ungelesen

/ 6

Denise701

,

Juni

2012
Historical Mysteries set in Northern European Countries?

7 ungelesen

/ 7

Marlie5

,

Mai

2012
Reading Through Time by Chronological Theme Reads - an idea

1 ungelesen

/ 1

Samantha_kathy

,

Januar

2012
highwayman in Bruce Alexander series?

3 ungelesen

/ 3

Booksrme

,

November

2011
Mystery and Murder in Ancient Japan

29 ungelesen

/ 29

Macbeth

,

Juli

2010
Korean Historical Mysteries

5 ungelesen

/ 5

porlocklt

,

Juni

2010
Will Thomas, Some Danger Involved & sequels

11 ungelesen

/ 11

y2pk

,

Juni

2010
The River God - Wilbur Smith- opinions?

5 ungelesen

/ 5

jtaravella

,

Mai

2010
Walter Satterthwait

3 ungelesen

/ 3

CD1am

,

Januar

2010
LT Author Chats

1 ungelesen

/ 1

SusanneAlleyn

,

September

2009
"Mad Hatter's Holiday"?

1 ungelesen

/ 1

IllyriaLady

,

August

2009
David Dickinson

2 ungelesen

/ 2

prettypagan42

,

Mai

2009
Elizabeth Peters / Amelia P. Emerson mysteries

15 ungelesen

/ 15

riani1

,

Februar

2009
Michael Cox -The Meaning of Night

7 ungelesen

/ 7

aarti

,

Februar

2009
Regency mysteries?

24 ungelesen

/ 24

aarti

,

Februar

2009
Happy New Year!

1 ungelesen

/ 1

bibliotheque

,

Dezember

2008
Gillian Linscott back as Caro Peacock

2 ungelesen

/ 2

bibliotheque

,

November

2008
Does anyone know what happened to Ann McMillan?

1 ungelesen

/ 1

RebeccaLynnLaw

,

November

2008
Has anyone ever read [Katherine Neville] The Eight?

12 ungelesen

/ 12

elenchus

,

Oktober

2008
Historical Mystery Giveaway

2 ungelesen

/ 2

bibliotheque

,

August

2008
Mysteries set in WWI thru WWII era

14 ungelesen

/ 14

CD1am

,

August

2008
Laurie R. King

17 ungelesen

/ 17

averitasm

,

August

2008
James Jackson's new book 'Pilgrim The Greatest Crusade'

1 ungelesen

/ 1

devenish

,

August

2008
Lee Jackson's Victorian Mysteries

3 ungelesen

/ 3

bibliotheque

,

April

2008
Official Rules for Mediaeval Detective Fiction

6 ungelesen

/ 6

cuffindell

,

März

2008
Iain Pears, An Instance Of The Fingerpost

15 ungelesen

/ 15

lmedgerton

,

Februar

2008
Official Rules for British-set Victorian Detective Fiction?

2 ungelesen

/ 2

aprillee

,

Februar

2008
Between the wars - USSR and Germany

6 ungelesen

/ 6

BarbN

,

Dezember

2007
Steven Saylor- Roma sub Rosa

3 ungelesen

/ 3

Unreachableshelf

,

Oktober

2007
Historical Celebrity Sleuths?

14 ungelesen

/ 14

aprillee

,

Oktober

2007
New site for historical fiction addicts

1 ungelesen

/ 1

katryna09

,

Mai

2007
Gillian Linscott - Nell Bray Mysteries

18 ungelesen

/ 18

bibliotheque

,

März

2007
Andrew Pepper-The Last Days of Newgate

1 ungelesen

/ 1

devenish

,

März

2007
Boris Akunin - The Erast Fandorin Mysteries

4 ungelesen

/ 4

quartzite

,

Februar

2007
Barbara Cleverly's mysteries set in 1920s India

11 ungelesen

/ 11

aarti

,

Januar

2007
Kerry Greenwood's Phryne Fisher Mysteries

3 ungelesen

/ 3

bibliotheque

,

Oktober

2006
Matthew Pearl and Louis Bayard

7 ungelesen

/ 7

bibliotheque

,

Oktober

2006
[The Name of the Rose]

25 ungelesen

/ 25

mbahawk

,

September

2006
The Woman In White / The Dark Clue

2 ungelesen

/ 2

Only2rs

,

August

2006
Stuart Kaminsky

3 ungelesen

/ 3

quartzite

,

August

2006
Lauren Belfer: City of Light

5 ungelesen

/ 5

marcinyc

,

August

2006
And to start off... [[Caleb Carr]]

5 ungelesen

/ 5

bibliotheque

,

August

2006
George Herman

1 ungelesen

/ 1

Risako

,

August

2006
This is a feature balloon