Roleplayers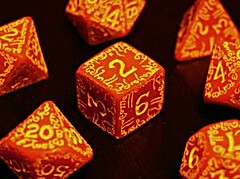 Diese Gruppe ist offiziell eingeschlafen. Sowas passiert.
Wie du die Gruppe wiederbeleben oder eine neue Gruppe zum selben Thema erstellen kannst, erfährst du hier.
You read roleplaying rulebooks and sourcebooks from cover to cover. You read tie-in fiction. You read fantasy, horror, science fiction, history, true crime and conspiracy theories to give you fodder for your campaign. You are a roleplayer, not an electronic gamer or a card flipper. Roleplayer, participant in a creative artform involving many, many books.

So, what's your favorite system and setting?
Thema

Thema

Beiträge

Letzter Beitrag

Welcome

15 ungelesen

/ 15

gnatdbug

,

September

2014
How do you cataloge your books?

4 ungelesen

/ 4

BruceCoulson

,

Juli

2014
Bringing newcomers into the hobby

1 ungelesen

/ 1

erikschmidt

,

Juli

2013
BESM D20?

1 ungelesen

/ 1

Oryphany

,

März

2013
What Do You Game?

25 ungelesen

/ 25

ghilbrae

,

Januar

2013
Anyone interested in post-apocalpyse RPGs?

5 ungelesen

/ 5

Oryphany

,

Dezember

2012
Most popular RPGs on LibraryThing by corebook

12 ungelesen

/ 12

emmatheknight

,

August

2012
Props!

4 ungelesen

/ 4

MarkAlexander

,

Januar

2012
Gamers in Switzerland

3 ungelesen

/ 3

fvenez

,

Juni

2011
Continuum 2012

1 ungelesen

/ 1

MarkAlexander

,

Mai

2011
Second Age Glorantha (Runequest 2)

5 ungelesen

/ 5

erikschmidt

,

Mai

2011
When do you game?

13 ungelesen

/ 13

drwho

,

Januar

2011
Dragonmeet

1 ungelesen

/ 1

MarkAlexander

,

November

2010
Pendragon (1st Edition) (Chaosium)

1 ungelesen

/ 1

cosmicdolphin

,

Juli

2010
Classic Traveller Scenario Recommendations

8 ungelesen

/ 8

bibliorex

,

März

2010
EABA

1 ungelesen

/ 1

prosfilaes

,

März

2010
D&D 4th Edition

3 ungelesen

/ 3

SentryLerb

,

Januar

2010
Your favorite character

6 ungelesen

/ 6

drwho

,

Dezember

2009
Reviews

20 ungelesen

/ 20

StormRaven

,

Juni

2009
Where do you game?

6 ungelesen

/ 6

WhisperedDreams

,

Mai

2009
A new year, and more games to be played...

1 ungelesen

/ 1

SentryLerb

,

Januar

2009
This is a feature balloon