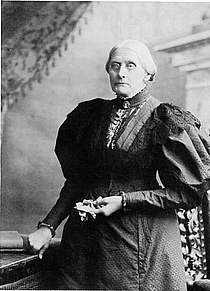 Bücher

295

Sammlungen

Tags

Wolken

Medium

Gruppen

Beigetreten

Jan 31, 2008
Bürgerlicher Name

Susan B. Anthony

Über meine Bibliothek

Über mich

Susan Brownell Anthony was born in Adams, Massachusetts, on February 15, 1820. She began her career as a schoolteacher, but she soon turned to activism for such causes as temperance, the abolition of slavery, and -- most famously -- the right for women to vote. At Seneca Falls, New York, in 1848, she was introduced to Elizabeth Cady Stanton. Stanton had by that time begun campaigning for the vote; she and Anthony soon formed one of the most enduring -- and celebrated -- partnerships in the suffrage movement.

Despite the efforts of Anthony, Stanton, and many other suffrage advocates, women would not be granted the vote nationally until the passage of the Nineteenth Amendment to the Constitution was ratified in 1920, a century after Anthony's birth.

Susan B. Anthony died in 1906, in Rochester, New York.
Mitgliederverbindungen
Freunde
Diese Seite verwendet Cookies für unsere Dienste, zur Verbesserung unserer Leistungen, für Analytik und (falls Sie nicht eingeloggt sind) für Werbung. Indem Sie LibraryThing nutzen, erklären Sie dass Sie unsere Nutzungsbedingungen und Datenschutzrichtlinie gelesen und verstanden haben. Die Nutzung unserer Webseite und Dienste unterliegt diesen Richtlinien und Geschäftsbedingungen.