HRO Orange 2013
Melde dich bei LibraryThing an, um Nachrichten zu schreiben.
Dieses Thema ruht momentan. Die letzte Nachricht liegt mehr als 90 Tage zurück. Du kannst es wieder aufgreifen, indem du eine neue Antwort schreibst.
"Bessie" - the bronze sculpture awarded to the Orange Prize winner
I've neglected this group all year...so sorry! Here's a quick catch-up of my Orange reads in 2013 as well as my tracking for the remainder of the year.
What my ratings mean: 5=Loved it! 4=Really liked it 3=Liked it 2=It was ok 1=Didn't like it (DNF=Did Not Finish). A half star means it didn't quite make it to the next full star.

And some helpful abbreviations: W = Winner SL = Shortlist LL = Longlist NW = New Writer Award
JULY
The Innocents
by Francesca Segal
2013 LL
Rating: 2.5 Stars
Brief summary: In her debut novel, Francesca Segal recasts Edith Wharton's
The Age of Innocence
with a story of a love triangle between a man, his fiance, and her cousin.
My thoughts:
My problem with this book was a weird one. I found the setting - an ultra-conservative Jewish community in northwest London - unbelievable. It seemed more like the 1950s than the present day. Are people really still like that? I didn't understand the character's actions or motivations, I found the writing dry and the dialogue stilted, and some plot points felt forced in an effort to mimic Wharton's novel.
JULY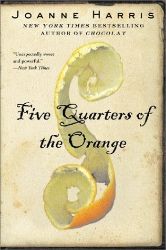 Five Quarters of the Orange
by Joanne Harris
2002 LL
Rating: 2.5 Stars
Brief summary: An elderly woman returns to the village where she grew up. She deals with her memories of an event that happened during WW2 when the Germans occupied the village and learns more about her tragic mother.
My thoughts:
Unlikeable characters. Verbose writing style. Slow pacing. I really struggled to read this book and found it far lacking in comparison to
Chocolat
.
JULY
Orange author: Liz Jensen
The Ninth Life of Louis Drax
by Liz Jensen
Rating: 4 Stars
Brief summary: While on a picnic outing with his parents, nine year old Louis Drax suffers a tragic accident and the injuries he sustains cause him to fall into a coma. His father, accused of committing the crime, has gone missing. The police and Louis' physician work to solve the mystery, and dark truths about Louis' life are revealed.
My thoughts:
The character voices! The way the book is constructed! The plot twists! The suspense! I was so utterly enthralled by this novel and the author's talent. The denouement was perhaps a bit predictable (at least, I wasn't totally shocked) but how the author got there? Mind blown.
WOW! Isn't it fun how all of us are so different in our loves, likes, & dislikes of the same books. I loved
Five Quarters of the Orange
and it was a 4 star read for me whereas I found
Chocolat
worthy of only 2 1/2 stars. So interesting.
Nice to see your thread here HRO & I have you starred.
:-)
Which did you read first - Five Quarters or Chocolat? I wonder if that makes a difference in your impression because in many ways the books are similar, and that lack of originality bugged me. And I felt there was a philosophical/psychological depth to Chocolat that was missing in Five Quarters.
I like your thoughts on
Five Quarters of an Orange
. I rated it higher when I read it a few years ago, but my memories of it are negative. I'm not in any hurry to read anything else by this author.
While I didn't particularly enjoy
The Innocents
by Francesca Segal, I have to say that the Orthodox Jewish families do live like this. Naomi Alderman's
Disobedience
has a similar setting.
I haven't read anything by Joanne Harris though I have a couple of her books gathering dust on my shelves.
You have caught me with
The Ninth Life of Louis Drax
by Liz Jensen, I'm noting that one for a future read.