Double Take: book covers that look alike
Melde dich bei LibraryThing an, um Nachrichten zu schreiben.
Dieses Thema ruht momentan. Die letzte Nachricht liegt mehr als 90 Tage zurück. Du kannst es wieder aufgreifen, indem du eine neue Antwort schreibst.
This post was originally suggested by member: theapparatus in 2011 under the heading
Interesting David Eddings cover art
; where these two images from two distinctively different publications were first compared:
Periodically over the following years I have posted similar examples to that original topic heading that I discovered myself.
Now, I'd like to start a new thread dedicated to the wider matter of
book covers that look alike
.
--------------------
Covers that don't count are those specifically designed as part of a series having been given the same graphic design elements.
Covers that are of interest here are:
Unrelated books which share the exact
same stock image
(as per the example above).
Or,
Book covers which are not exactly the same image, but which make you do a
double take
because one has clearly copied the other's cover either by design or perhaps by accident. As per the example shown here:
1988
Here are two more books which fall into the category of shared/recycled cover art.
I'd like to believe that the illustrator got paid for both jobs, but since both books are by the 'Popular Library', it is far more likely that the artwork was purchased outright by the publishing house to use/re-use as they wish; otherwise why not simply commission the artist to do another book cover for them.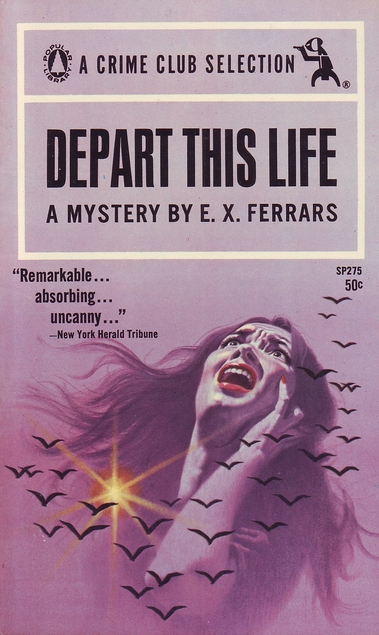 A tale of two murders
a.k.a. Depart This Life (1959)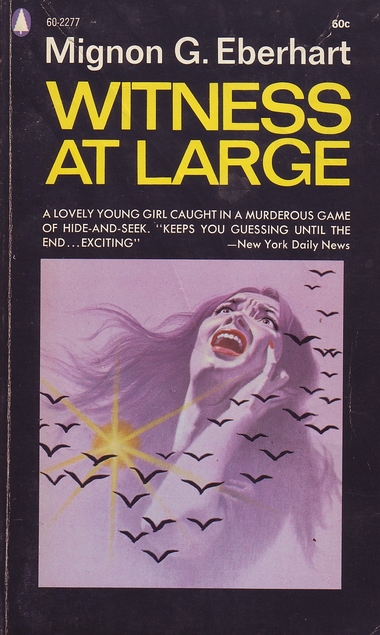 ...and
Witness at Large
(1966)
Couple of rather distressing SF covers:
and
.
I feel like I should add that I haven't read either of these--they were found through Goodreads and Good Show Sir.
>4 haydninvienna:
Nice catch. I wonder if cover artist is credited in any of the books. (It might be the same one but it could also be a copycat?) I have a bunch of old Danish SF-books where the cover is probably not original artwork :-)
>4 haydninvienna:
Like
>5 bnielsen:
said 'nice catch'. :)
It puzzled me to know if the image was totaly redrafted by Carl, copied by another artist (as was done with all the UK cloned covers of Astounding), or if (as I suspect) he just altered the original picture.
After speaking with Carl, over email today, it turns out it was indeed altered, but not in the way you would have expected.
I've included Carl's reply:
-- Dear Sylak,
Thank you for your interest in the artwork.
It's funny that you should bring up the costume changes on my "Swordswoman" painting!
The original cover was a "portrait" of a Penthouse Magazine model named Corrine Alpin who posed in the nude for me.
We couldn't use her nude on the cover, so I painted over her "naughty bits" with lightning bolts (seen in the background of the painting).
I thought this worked great but the art director still thought she was too bare ("in his mind") so we ended up with the Karate jacket on the first edition.
Prints were made and sold of my more generic images so I painted out the stupid coat and replaced it with the chain mail,
which I liked better and that's how it was sold to my European Art Agent Thomas Schluck.
Eventually I painted her nude once more for myself and sold it instantly.
Oil paint is very forgiving and easily painted over.
Hope this helps you with your confusion.
I have a book of my work for sale and the complete story is told in that.
And I paint copies of my originals for $900USD.
Thanks again.
See 'ya,
Carl
Ha, that's the opposite story of Roald Dahl: "Nunc Dimittis" if you've ever come across that.
>8 Sylak:
what a great story! Thank you for that—I'll pass it on to Good Show Sir.
>9 bnielsen:
Oh yes. I have indeed; and you are right!
>10 haydninvienna:
I would not have believed it if I hadn't got the story first hand. Occam's razor totally failed me that time! Yes, do share. :)
>11 Sylak:
I just quoted the text of the email directly. You can see it at the Good Show Sir page I linked to in #6.