Trifolia reads...
Melde dich bei LibraryThing an, um Nachrichten zu schreiben.
Total: 141/1.001 (my edition)
Total: 163/1.315 (all editions)

List of books read so far:

before 1600
10. The Life of Lazarillo de Tormes by Anonymous (1554)

1600-1699
16. Don Quixote by Miguel de Cervantes Saavedra (1605)

1700-1799
22. The Life and Adventures of Robinson Crusoe by Daniel Defoe (1719)
25. Gulliver's Travels by Jonathan Swift (1726)
35. Candide by Voltaire (1759)
45. The Sorrows of Young Werther by Johann Wolfgang von Goethe (1774)
49. De historie van mejuffrouw Sara Burgerhart by Betje Wolff (1782)
52. Vathek by William Beckford (1786)

1800-1809

1810-1819
69. Sense and Sensibility by Jane Austen (1811)
x. Pride and Prejudice by Jane Austen (1813)
x. Mansfield Park by Jane Austen (1814)
72. Emma by Jane Austen (1815)
x. Northanger Abbey by Jane Austen (1817)
x. Persuasion by Jane Austen (1818) (2006 Edition)

1820-1829

1830-1839
82. Le rouge et le noir by Stendhal (1830)
88. Oliver Twist by Charles Dickens (1838)
89. De leeuw van Vlaanderen by Hendrik Conscience (1838)
92. Camera obscura by Hildebrand (1839)

1840-1849
94. Dead Souls by Nikolaj Gogol (1842)
x. A Christmas carol by Charles Dickens (1843)
101. Jane Eyre by Charlotte Brontë (1847)

1850-1859
105. David Copperfield by Charles Dickens (1850)
106. The Scarlet Letter by Nathaniel Hawthorne (1850)
107. Moby Dick by Herman Melville (1851)
109. Uncle Tom's Cabin by Harriet Beecher Stowe (1852)
111. Bleak House by Charles Dickens (1853)

1860-1869
119. The Woman in White by Wilkie Collins (1860)
121. Max Havelaar by Multatuli (1860)
125. Les misérables by Victor Hugo (1862)
129. Alice in Wonderland by Lewis Carroll (1865)
134. The Moonstone by Wilkie Collins (1868)
135. Little women by Louisa May Alcott (1868)

1870-1879
154. Anna Karenina by Lev N. Tolstoj (1877)

1880-1899
x. De kleine Johannes by Frederik Van Eeden (1884)
170. The adventures of Huckleberry Finn by Mark Twain (1885)
180. Eline Vere by Louis Couperus (1889)

1890-1899
181. Hunger by Knut Hamsun (1890)
186. The Picture of Dorian Gray by Oscar Wilde (1891)
x. The yellow wall paper by Charlotte Perkins Gilman (1892)
192. The Adventures of Sherlock Holmes by Sir Arthur Conan Doyle (1892)
194. A Posthumous Confession by Marcellus Emants (1894)
200. Dracula by Bram Stoker (1897)
208. The Awakening by Kate Chopin (1899)

1900-1909
213. Van de koele meren des doods by Frederik van Eeden (1900)
216 Buddenbrooks by Thomas Mann (1901)
217. The Hound van de Baskervilles by Sir Arthur Conan Doyle (1902)
218. Heart of darkness by Joseph Conrad (1902)
225. The way of all flesh by Samuel Butler (1903)
230. Solitude by Víctor Català (1905)
232. The Forsyte Saga by John Galsworthy (1906)
239. A room with a view by E. M. Forster (1908)

1910-1919
254. The thirty-nine steps by John Buchan (1915)
256. Of human bondage by W. Somerset Maugham (1915)
x. Pallieter by Felix Timmermans (1916)
265. The Return of the Soldier by Rebecca West (1918)

1920-1929
276. Life and Death of Harriett Frean by May Sinclair (1922)
280. Kristin Lavransdatter by Sigrid Undset (1922)
293. The Great Gatsby by F. Scott Fitzgerald (1925)
294. Mrs. Dalloway by Virginia Woolf (1925)
297. The murder of Roger Ackroyd by Agatha Christie (1926)
298. Iemand, niemand en honderdduizend by Luigi Pirandello (1926)
310. Der Steppenwolf by Hermann Hesse (1927)
313. Decline and Fall by Evelyn Waugh (1928)

1930-1939
317. Lady Chatterley's Lover by D. H. Lawrence (1932)
330. The Maltese Falcon by Dashiell Hammett (1930)
340. The Radetzky March by Joseph Roth (AT, 1932)
346. Kaas by Willem Elsschot (1933)
354. Bint by Ferdinand Bordewijk (1934)
356. Tender is the Night by F. Scott Fitzgerald (1934)
x. A Handful of Dust by Evelyn Waugh (1934)
366. Onafhankelijke mensen by Halldor Laxness (1935)
381. The hobbit by J.R.R. Tolkien (1937)
383. Of Mice and Men by John Steinbeck (1937)
389. Rebecca by Daphne du Maurier (1938)
392. On the Edge of Reason by Miroslav Krleža (1938)
395. The grapes of wrath by John Steinbeck (1939)

1940-1949
408. L'étranger by Albert Camus (1942)
410. Schaaknovelle by Stefan Zweig (1942)
413. Le petit prince by Antoine De Saint-Exupéry (1943)
415. The razor's edge by W. Somerset Maugham (1944)
417. Pippi Longstocking by Astrid Lindgren (1945)
419. Animal farm by George Orwell (1945)
423. Brideshead Revisited by Evelyn Waugh (1945)
430. Anne Frank: The Diary of a Young Girl by Anne Frank (1947)
436. La peste by Albert Camus (1947)
440. De avonden by Gerard Reve (1947)
444. Cry, the beloved country by Alan Paton (1948)
448. Nineteen eighty-four by George Orwell (1949)

1950-1959
465. The End of the Affair by Graham Greene (1951)
468. The catcher in the rye by J.D. Salinger (1951)
484. Lucky Jim by Kingsley Amis (1953)
489. De Kapellekensbaan (Chapel Road) by Louis Paul Boon (1953)
494. Lord of the flies by William Golding (1954)
510. The Talented Mr. Ripley by Patricia Highsmith (1955)
511. The lord of the rings by J. R. R. Tolkien (1954)
522. Het bittere kruid (Bitter Herbs) by Marga Minco (1957)
532. Gabriela, Clove and Cinnamon by Jorge Amado (BR, 1958)
544. The Tin Drum by Günter Grass (1959)
x. Memento mori by Muriel Spark (1959)

1960-1969
550. To kill a mockingbird by Harper Lee (1960)
560. The Prime of Miss Jean Brodie by Muriel Spark (1961)
594. Terug naar Oegstgeest by Jan Wolkers (1965)
600. In Cold Blood by Truman Capote (1965)
607. Nooit meer slapen (Beyond Sleep) by Willem Frederik Hermans (1966)
616. One Hundred Years of Solitude by Gabriel García Márquez (1967)
624. The German Lesson by Siegfried Lenz (1968) (book 162) ✔
639. Slaughterhouse-Five by Kurt Vonnegut (1969)

1970-1979
711. Een vlucht regenwulpen by Maarten 't Hart (1978)
x. The world according to Garp by John Irving (1978)

1980-1989
728. The Name of the Rose by Umberto Eco (1980)
741. Rabbit is rich by John Updike (1981)
745. The House of the Spirits by Isabel Allende (1982)
749. The color purple by Alice Walker (1982)
754. Het verdriet van België (The Sorrow of Belgium) by Hugo Claus (1983)
786. Perfume: The Story of a Murderer by Patrick Süskind (1985)
790. The cider house rules by John Irving (1985)
810. De man die werk vond by Herman Brusselmans (1985)
811. Beloved by Toni Morrison (1987)
813. The New York Trilogy by Paul Auster (1987)
830. Foucault's Pendulum by Umberto Eco (1988)
834. A prayer for Owen Meany by John Irving (1989)

1990-1999
843. Hoffman's honger (Hoffman's Hunger) by Leon de Winter (NL, 1990)
849. The Music of Chance by Paul Auster (US, 1990)
856. De wetten by Connie Palmen (1991)
860. Kartonnen dozen by Tom Lanoye (1991)
868. Miss Smilla's Feeling for Snow by Peter Høeg (1992)
873. The English Patient by Michael Ondaatje (1992)
881. The secret history by Donna Tartt (1992)
x. Black Dogs by Ian McEwan (1992)
890. De tweeling by Tessa de Loo (1993)
893. The Shipping News: A Novel by E. Annie Proulx (1993)
898. Felicia's Journey by William Trevor (1994)
912. De voorlezer by Bernhard Schlink (1995)
916. Alias Grace by Margaret Atwood (1996)
x. American Pastoral by Philip Roth (1997)
934. The Poisonwood Bible by Barbara Kingsolver (1998)
936. The Hours by Michael Cunningham (VS, 1998)
x. Amsterdam by Ian MacEwan (1998)
943. Disgrace by J.M. Coetzee (1999)
948. Stupeur et tremblements by Amélie Nothomb (1999)

2000-2009
957. Ik ben niet bang by Niccolò Ammaniti (2001)
958. Atonement by Ian MacEwan (2001)
x. Fingersmith by Sarah Waters (2002)
x. The Curious Incident of the Dog in the Night-Time by Mark Haddon (2003)
970. Een schitterend gebrek (In Lucia's Eyes) by Arthur Japin (2003)
971. De asielzoeker by Arnon Grunberg (2003)
975. Cloud Atlas by David Mitchell (2004)
x. The Lambs of London by Peter Ackroyd (2004) (2006 Edition)
984 Het meten van de wereld (Measuring the World) by Daniel Kehlmann (2005)
985. The Sea by John Banville (2005)
x. Never Let Me Go by Kazuo Ishiguro (2005)
986. The Elegance of the Hedgehog by Muriel Barbery (2006)
992. The Reluctant Fundamentalist by Mohsin Hamid (2007)
994. The Road Home by Rose Tremain (2007)
996. De middagvrouw (The Blindness of the Heart) by Julia Franck (2007)
997. The gathering by Anne Enright (2007)
1001. The White Tiger by Aravind Adiga (2008)
x. The Children's Book by A. S. Byatt (2009)

2010-2019
x. Nemesis by Philip Roth (2010)
x. The Sense of an Ending by Julian Barnes (2011)
x. H Is for Hawk by Helen Macdonald (2014)
x. The Story of the Lost Child by Elena Ferrante (2014)
x. H(A)PPY by Nicola Barker (2017)

Welcome, to another Dutch reader of the List! I have been reading from the Dutch and English versions, although mostly Dutch books in translation since reading fiction in Dutch is too much work for my leisure time.
161. The German Lesson by Siegfried Lenz
- 4,5 stars
In the aftermath of World War II and as the son of a Nazi loyal policeman, Siggi, a young man who is in an institution to be re-educated, is assigned to write an essay on "the joy of duty". When he fails to get something on paper in time, he is punished and obliged to write the essay after all. It eventually becomes the beginning of a book in which he tells his life story and in which duty plays a leading role.
Flashbacks give us a glimpse of Siggi's life and how he ended up in the situation he is now in. Each chapter is a separate scene in which the storyline is rolled out in fine detail. Leading roles are played by the father and a painter who is forbidden by Berlin to paint, but other characters of his family and close-knit community are fleshed out well too.
In addition, Siggi also tells the story of his experiences in the institution, observing his fellow inmates, the guards and the psychologists who observe them and are supposed to cure them. In the end, you wonder who is more in need of healing.
I thought this was an amazing book. It is very well written, with beautifully crafted characters and an interesting storyline. But especially the way in which Lenz elaborates the theme of duty is impressive. Strongly recommended for those who love books to reflect on.
>3 Trifolia:
sounds like an interesting book - have added it to my tbr list.
>3 Trifolia:
Great review. I think your reading is spot on, and it's easy to see why it was the perfect book for a new generation who were anti-authoritarian and about to ask their parents and grandparents what they REALLY did during the war.
>4 puckers:
- It is an interesting book and I hope you'll eventually like it as much as I did.
>5 Henrik_Madsen:
- Thank you. There's so much in this book that I wasn't able to convey without spoiling it for future readers. But indeed, the fact that it was written in 1968 is relevant, the sins of the fathers and all that. It's a very thought-provoking.
162. H(A)PPY by Nicola Barker
- 3 stars
You may wonder why I read dystopias again and again when I'm not actually a fan of them. Psychologists would undoubtedly have an extensive explanation for it, but the fact is that when I saw this book I was yet again stimulated to read it. It takes place in the future where everything is good and pleasant and people are controlled and guided by artificial intelligence. But suddenly the main character Mira has problems with her wiring and all kinds of unwanted signals come through that refer to a distant past and another continent. In addition to the story, I found the way of writing and the page layout particularly fascinating. The author plays with colors, fonts and shapes and makes them part of the story. I found that particularly intriguing. The fact is that you cannot read this book in an audio version.
In the end I thought the story was a bit too thin to really make it a hit. It definitely pulled me out of my comfort zone, but it still hasn't made me a real fan of dystopias.
163. On the Edge of Reason by Miroslav Krleža
- 4 stars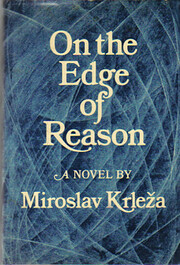 When a settled man in his fifties almost accidentally accuses a prominent politician of being a murderer (which he actually is), the consequences are dire. Although he is given several opportunities to admit his "mistake", he decides to resolutely choose honesty from now on and give up his hypocritical existence. Within a week, the group turns against him and he loses all the foundations on which he has built his life.
This sometimes funny, sometimes poignant story is told from the point of view of the protagonist who is ostracized from the group. He is a somewhat strange figure, where it is not clear whether he actually wants to be consistent or suffers from some form of madness. Because through his encounters with others, you get the impression that there is more going on. Or is the peer pressure so great that the individual is crushed anyway.
Despite the fact that it has a limited storyline, I really liked this relatively short novel.
164. Madame Bovary by Gustave Flaubert
- 4 stars
What more can be said about this classic about which so much has been written already. It's been on my "must-read classic" list for a long time but was a bit hesitant because I really didn't feel the need for another "women's novel" from a yearning woman to be rescued.
But look, I decided to bite the bullet and have once again found that classics are not called classics for nothing. Regardless of all the qualities of the book, it made me stop and think about the characters of Emma and Charles Bovary, both prisoners of their time. And after reading this book, I wonder what Emma's life would have been like if she'd had the chance to develop instead of being pushed into a role she didn't like. Somewhere in the book she says, apparently rather thoughtlessly, that she would have liked to become a nurse. And indeed, earlier in the book it had already been described how she had come to the aid of her husband in a prompt and skilful manner during a medical procedure. But for someone like Emma, ​​this may not have been possible. The subtitle of this book (Mœurs de province) therefore seems very relevant to me. This book was a very pleasant surprise for me.
165. The Tartar Steppe by Dino Buzzati
- 4 stars
A wonderful, slightly kafka-esque book about a young soldier who is sent to a fortress on the outside border to prepare for an invasion of the barbarians. From day one he wants to leave but even though he gets multiple chances to do so, he eventually stays his whole life. It's an allegory of life, but I'm not sure if it's comforting or daunting. Maybe it's both.
166. The Strange Case of Dr Jekyll and Mr Hyde by Robert Louis Stevenson
- 3,5 stars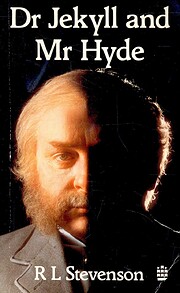 One of those books that I had wanted to read for a long time but never got to until now. The premise is simple: a man fiddles with drugs to split his good and bad self, but in the end his evil self takes over. It's an interesting thought, but I found that the story was too long and too cerebral, maybe because of the specific point of view. A bit disappointing but I'm glad I read it.