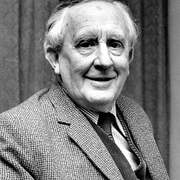 J. R. R. Tolkien
(1892–1973)
Wissenswertes
Rechtmäßiger Name

Andere Namen

Geburtstag

Todestag

Begräbnisort

Geschlecht

Nationalität

Land (für Karte)

Geburtsort

Sterbeort

Todesursache

Wohnorte

Oxford, Oxfordshire, England, UK
West Midlands, England, UK
Leeds, Yorkshire, England, UK
Bournemouth, Dorset, England, UK
Bloemfontein, Südafrika
Birmingham, Warwickshire, England, UK

Ausbildung

Berufe

Professor (Englische Literatur)
Dozent (English)
Lyriker
Philologe
fantasy writer
writer (

Zeige alle

9)
novelist
translator
soldier

Beziehungen

Organisationen

Preise und Auszeichnungen

Order of the British Empire (Commander ∙ 1972)
Honorary Doctorate (University of Liège ∙ 1954)
Fellow of the Royal Society of Literature (1957)
Honorary D. Litt (National University Of Ireland ∙ 1954)
Royal Society of Literature Benson Medal (1966)
Gandalf Award (Grand Master of Fantasy ∙ 1974) (

Zeige alle

14)
Sir Israel Gollancz Memorial Lecturer, British Academy (1936)
Andrew Lang Lecturer, University of St. Andrews, Fife (1939)
W. P. Ker Lecturer, University of Glasgow (1953)
O'Donnell Lecturer, Oxford University (1955)
Skeat prize (1914)
Bog & Idé-prisen (2002)
Honorary D. Litt ( [1972])
SF Hall Of Fame (2013)

Kurzbiographie

John Ronald Reuel Tolkien (3 January 1892 – 2 September 1973) was an English writer, poet, philologist, and academic. He was the author of the high fantasy works The Hobbit and The Lord of the Rings.

He served as the Rawlinson and Bosworth Professor of Anglo-Saxon and Fellow of Pembroke College, Oxford, from 1925 to 1945 and Merton Professor of English Language and Literature and Fellow of Merton College, Oxford, from 1945 to 1959. He was at one time a close friend of C. S. Lewis—they were both members of the informal literary discussion group known as the Inklings. Tolkien was appointed a Commander of the Order of the British Empire by Queen Elizabeth II on 28 March 1972.

After Tolkien's death, his son Christopher published a series of works based on his father's extensive notes and unpublished manuscripts, including The Silmarillion. These, together with The Hobbit and The Lord of the Rings, form a connected body of tales, poems, fictional histories, invented languages, and literary essays about a fantasy world called Arda and Middle-earth[b] within it. Between 1951 and 1955, Tolkien applied the term legendarium to the larger part of these writings.

While many other authors had published works of fantasy before Tolkien, the great success of The Hobbit and The Lord of the Rings led directly to a popular resurgence of the genre. This has caused Tolkien to be popularly identified as the "father" of modern fantasy literature or, more precisely, of high fantasy. In 2008, The Times ranked him sixth on a list of "The 50 greatest British writers since 1945". Forbes ranked him the fifth top-earning "dead celebrity" in 2009.

Hinweis zur Identitätsklärung

Please do not combine this page with the

John Tolkien

author page. If any works by J. R. R. Tolkien appear on that page, they should be aliased to this one.

Also please don't combine it with the page of

Christopher Tolkien

, even though he edited a lot of his father's works posthumously.
Statistikseite
Werke

535

Auch von

64

Mitglieder

423,374

Beliebtheit

#6

Bewertung

4.3
Rezensionen

3,756

ISBNs

4,347

Sprachen

58

Favoriten

3,167

Über uns

15

Anker

4,710